STRANCO
SOLID WASTE MANAGEMENT
Servicing St. Tammany, Washington, and Tangipahoa Parishes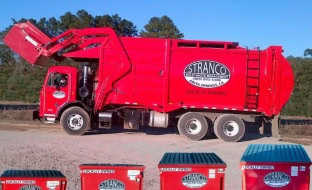 Front-load containers provide a permanent, convenient waste disposal solution for enterprises and projects of any dimension. Working in partnership with Discount Waste means timely delivery and management of a front load dumpster that suits your business and your budget.
All states have local and federal regulations that require business owners to dispose of their trash properly, which is why having a reliable waste management service is a must. Front-loading dumpsters are practical and affordable. They can save a business owner the time, money, and effort it would take to personally haul their trash to a local dump or compactor site.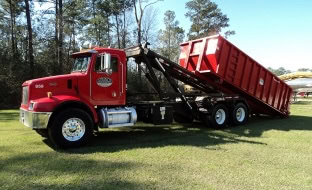 Stranco Solid Waste Management Co.LLC provides reliable and economical St. Tammany construction debris and roll-off services for residential, industrial and commercial jobs from Slidell, Louisiana to Hammond, Louisiana and most places in between. Our 30 yd open top roll-off boxes are perfect for new construction sites; demolition sites; renovations and/or remodeling projects; landscaping projects; and much more. If you are in need of a 30 yd roll-off box for your latest project, give us a call for a quote. Call Frank @ 985-960-0216 Roll Off Box, C&D Service, Front Loader Dumpster Service. Serving: St. Tammany, Washington and Tangipahoa Parishes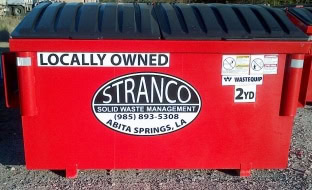 Stranco Solid Waste has been successfully helping residents and businesses dispose of solid waste including household garbage, construction and demolition debris, and other non-hazardous trash. In addition to owning and managing its one-of-a-kind transfer station in Abita Springs, La, Stranco Solid Waste Management Co., LLC operates a second solid waste transfer station also located in Abita Springs, La and has extended its business venture to include operating and managing a solid waste transfer station facility in New Iberia, Louisiana. Stranco Solid Waste Management Co. LLC will go the distance to ensure that our facilities are properly operated to ensure cost-effective solutions to waste management in the communities in which we serve.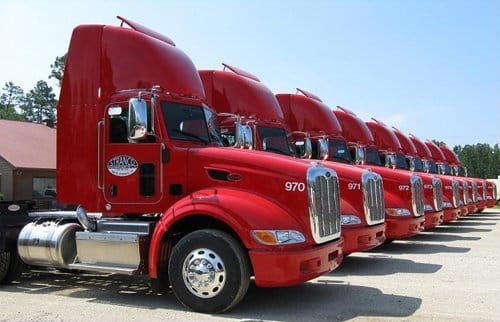 A Local leader In
Waste Management Solutions
Stranco Solid Waste is committed to offering its residential, commercial and industrial customers an economical and convenient solution to disposal of their non-hazardous trash and debris. We offer front load, roll off, and waste management services.
We Deliver To You
Get on-time delivery from truck drivers trained to the highest standards of safety and professionalism.
Easy Setup & Access
Easily schedule with our support staff and manage your account online.
No Surprises
With Stranco you can expect up-front pricing, no hidden fees, professionalism, and honesty.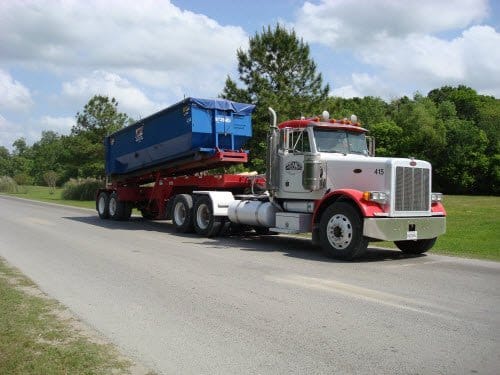 Transfer Stations
Stranco Solid Waste Mgmt Co LLC has two locally owned, licensed and permitted transfer stations in St Tammany Parish and also manages another transfer station in New Iberia, La.  Stranco Solid Waste is committed to offering its residential, commercial and industrial customers an economical and convenient solution to disposal of their non-hazardous trash and debris.
Whether you use one of our disposal services, such as our dumpster service or our roll-off service, or if you bring in your refuse yourself, Stranco Solid Waste Management Co., LLC is always equipped and prepared to meet your non-hazardous waste disposal needs.
Open to the Public
We accept household garbage, construction debris, yard debris, furniture, swing sets, and appliances such as washers and dryers. We also accept refrigerators, freezers and A/C units, however, the Freon must be removed. We take tires (5 per resident) and used oil at Site 1. If you have any question on what we can take, please call (985) 893-0322.
Fees and Rates Do Apply. For more information call (985) 893-0322.
Location 1:
69015 Hwy 59, Mandeville, LA 70471
Hours: Monday – Saturday 7:00AM – 5:30PM and Sunday 8:00AM – 4:00PM
Location 2:
68658 Hwy 59, Mandeville, LA 70471
Hours: Monday – Friday 7:00AM – 5:00PM and Closed on Saturday & Sunday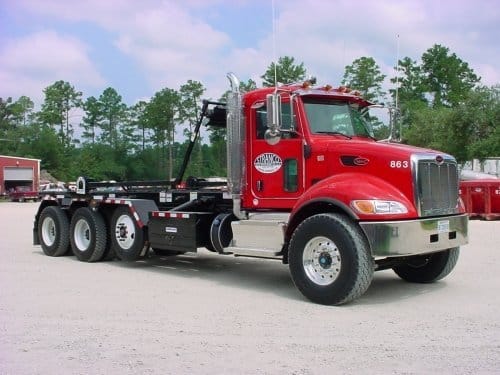 Frequently Asked Questions
You Ask, We Answer
Let Us Solve Your Waste Management Problems
Solid waste management is extremely important in your community mainly because it will prevent your household from experiencing the hazardous outcomes of solid waste material. By getting rid of most of these waste matter properly, you can actually protect your loved ones along with the environment.
What is a front load dumpster?
Front-loading dumpsters are recognizable by their side sliding doors and plastic lid that covers a large, open top and prevents critters from accessing the container's contents. These dumpsters are. ideal for businesses of all sizes. They are often used with office buildings, restaurants and hotels, churches and places of worship, shopping and retail centers, schools and universities, sports, recreation and other entertainment facilities.
What is a roll off?
In the United States, a roll-off is usually open top dumpster characterized by a rectangular footprint, utilizing wheels to facilitate rolling the dumpster in place. The container is designed to be transported by special roll-off trucks.
What is solid waste management?
solid-waste management, the collecting, treating, and disposing of solid material that is discarded because it has served its purpose or is no longer useful. "Solid waste" means any garbage or refuse, sludge from a wastewater treatment plant, water supply treatment plant, or air pollution control facility and other discarded material, resulting from industrial, commercial, mining, and agricultural operations, and from community activities
Can we pay for services online?
Yes, we have a payment portal for our waste services.
Need Assistance?
Talk to a real person today to resolve your issue right now!